---
CAREER OPPORTUNITIES:
American Professional Ambulance has immediate job openings for full and part time certified EMT's. We have multiple stations serving the San Fernando Valley, Los Angeles, South Bay, Santa Monica, Long Beach and Orange County. Whether you are looking for the fast paced environment of emergency responses or the more predictable inter-facility transport arena, American Professional Ambulance has a place for you.
Highest Pay in the Ambulance Industry, offering the best benefits and incentives. 
Employee Compensation (Hourly Pay):
Up to $22.00 Hourly
Flexible Shifts for students

Employee Benefits:
Paid Training / Paid Holidays / Paid Vacation
Paid Medical/Dental & Vision Insurance
Great Advancement Opportunities
401(k) Plan (with a company match)
Complimentary Continuing  Education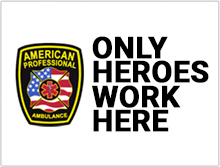 At American Professional Ambulance it's not just a job, it's a CAREER!
WE ARE ACCEPTING JOB APPLICATIONS FOR THE FOLLOWING POSITIONS:
EMT's, FTO's, Field Supervisors, Dispatchers, Paramedics, Respiratory Therapists, Registered Nurses,  Marketers and Billers.
Other Career Opportunities:
If you are looking for a challenge and growth opportunity, American Professional Ambulance will offer you both!
Whether you are looking for an opportunity in Dispatch, Marketing, Fleet Maintenance or Billing Administration, your opportunity to join one of the best providers of emergency medical services is here!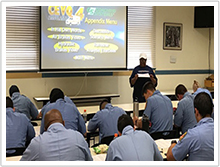 LOS ANGELES COUNTY LINKS TO EMT TRAINING PROGRAMS